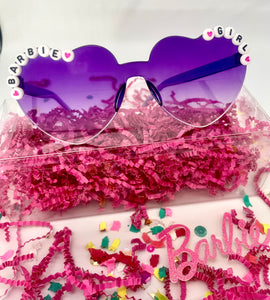 "Barbie Girl" Heart Sunglasses
Hey Barbie! Let's go Party! Get everyone ready for your summer party days with a pair of our super fun "Barbie Girl"  Heart Sunglasses! Little ones of all ages will have so much fun showing off their Barbie and Ken styles with these adorable sunglasses! 
-Package includes 1 pair.
-Approximately 6in in length.
-Material: plastic
*Heart beads may vary in color.